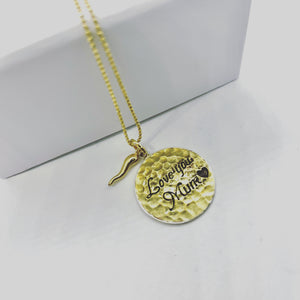 The beautiful love you mum  necklace is made from base sterling silver and 18ct gold plated with the finest materials. Will not tarnish and can be worn every day.
Adorned with a handmade brass and sterling silver charm. Length of chain - 50cm.
Charm- 4cm 
cornetti charm - 2cm 
Made exclusively for Santina Jewellery.
One of a kind!