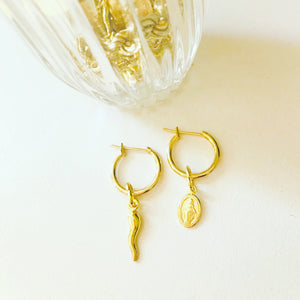 New beginnings.
A beautiful set of new beginnings earrings are perfect for anyone wanting inspiration in their life.
Made from the finest of materials. Hypoallergenic hoops and sterling silver charms. Wear these everyday to guide and protect!
Size of hoops - 1.3cm
length of charm -  2cm
Sterling silver 18ct gold charms.
Made in Italy. Assembled in Melbourne.